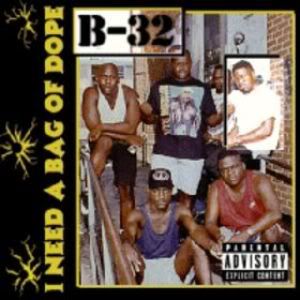 Before skyrocketing to fame as one half of the Southern rap duo Big Tymerz, Birdman was using the name B-32, short for Baby With The 32 Golds. He had recently started an independent record label with his brother Slim, calling it Cash Money Records. Its first release was an album by Kilo G released in 1992.
In the following year he recorded and released his first album for the label, I Need A Bag Of Dope. It features guest verses by a slew of unknown southern rappers. The sound is typical early 90's bounce, recorded with analogue synths and ancient drum machines. Production is handled by Mannie Fresh, the other half of Big Tymerz, who is still producing occasional tracks for these Cash Money artists to this day. Three tracks are instrumental beat mixes he created for the record. I'm not sure if any other Cash Money albums have had this distinction.
The eight songs here aren't anything special and the release could easily be written off by most, but there are a couple catchy songs here and it's an interesting document concerning how the biggest record label in modern hip-hop got its start.
Download it
here.